GROUP CHAIRMAN OF M&C GROUP (GLOBAL) MR. VANDERPUYE AT THE INAUGURATION OF THE AFRICA CHAMBER FOR TRADE CEOs FORUM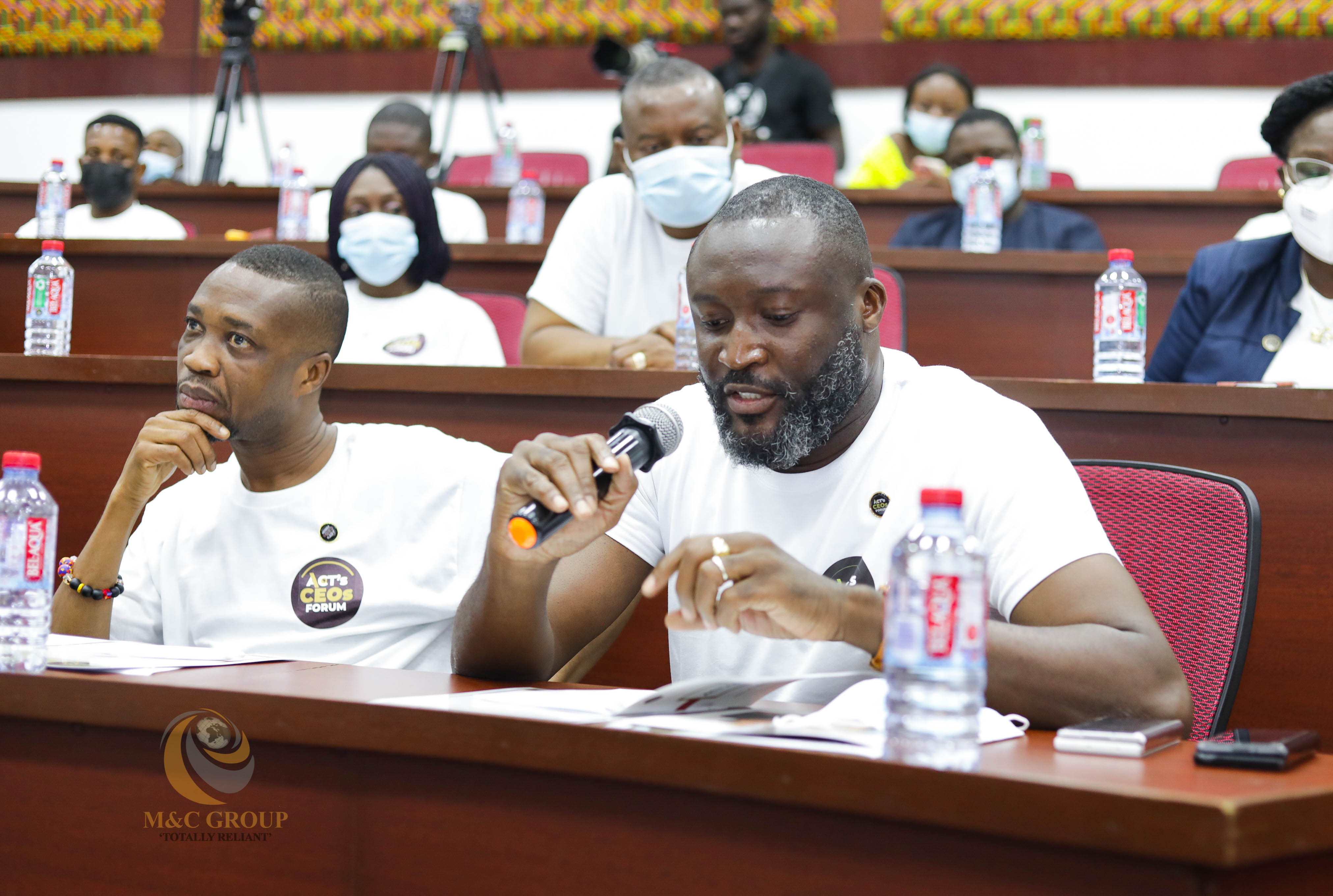 The Group Chairman, Mr. Vanderpuye with The Acting President of The ACT's CEOs Forum Ghana Chapter, Rev. Ismaila Awudu in a question & answer with the audience.
The African Chamber For Trade (ACT) CEOs Forum Leadership and Networking Workshop, Ghana Chapter was inaugurated at the China- Europe International Business School, Accra on Thursday, February 24, 2022. The Workshop was organized by the executives of Ghana-Chamber of ACT, had the following in attendance; Group Chairman of M&C Grup (Global), Mr. Michael Leslie Bartlett-Vanderpuye, Group CEO of The Business Executive, Baroness Paulette Kpropo, Consulting Prez. Laweh Open University, Prof. Goski Alabi, CEO of MCDAN Group, Dr. Daniel McKorley, CEO of Holy Trinity Medical Centre, Dr. Felix Anyah and CEO of HANS Group, Baron Ismaila H. Awudu (REV).
The event is expected to serve as a platform for connecting business developments and it brought together CEOs, businesses and investors with the aim of promoting trade and economic development in Ghana and across the globe. The African Chamber for Trade (ACT) is a Pan- African trade and investment initiative that has been established as a pre-eminent platform for enterprises domiciled within the member states of the African Continental Free Trade Area (AFCFTA). ACT intends to forge, maintain and nurture mutually beneficial trade and investment relationships among the member states on the terms and conditions of AFCFTA.
To these ends, ACT seeks to maintain close collaborative working relationships with metropolitan, national and sub-regional Chambers of Commerce And Industry in Africa. ACT intends to play a complimentary role, including cross presentations, with a view to achieving the same objectives as these Chambers, albeit specifically with respect to inter-African trade and investment.
---